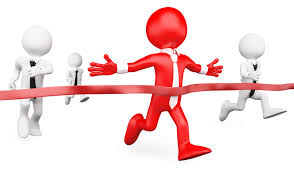 "We look for opportunities where we can offer something better, fresher and more valuable and we seize them. We often move into areas where the customer received a poor deal and where the competition is complacent. And with our growing e-commerce activities, we also look to deliver old products in new ways. We are proactive and quick to act, often leaving bigger and more cumbersome organizations in our wake" - Richard Branson
Competitive Analysis

To differentiate and position your business you must understand the competitive landscape by focusing on four key elements:
1. Industry Size and Growth: How big is the industry and what is its growth rate? Its important to study the industry which your product belongs to.

2. Market Segments: Every industry can be dissected in a variety of ways into market segments. Each segment focuses on a bundle of value that appeals to a customer. A company has to decide which segment it wants to play in and, if possible, dominate that segment. Walmart is the leader in the price segment in household goods. In the organic food segment, Whole Foods provides leadership. For fast hamburgers, McDonald's excels.

3. Key Competitors: You need to understand trends. Who are your key competitors and what are their strengths and weaknesses? Share of market and its change, are a good indicator of the underlying strength of a business.

4. Opportunities: Every industry offers possible opportunities. Look for gaps and unmet needs. What advantage are you planning to focus on and why will you succeed?

Are you on top of your game? What about that of your competitors?


Verinder Syal, Author: Discover The Entrepreneur Within
---